If you love Turtle candies, these turtle cookies are about to become your new obsession! Made with crunchy pecans, buttery caramel, and lots of chocolate, they're perfect for parties or simply snacking!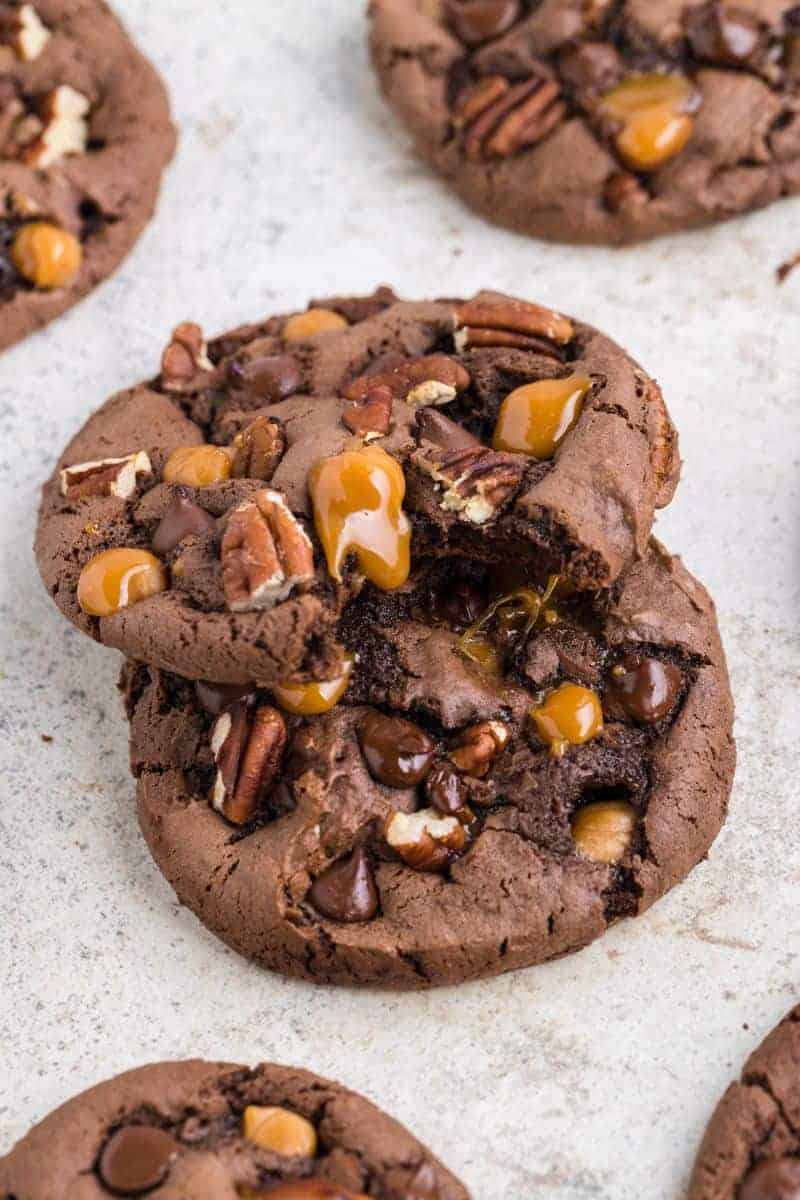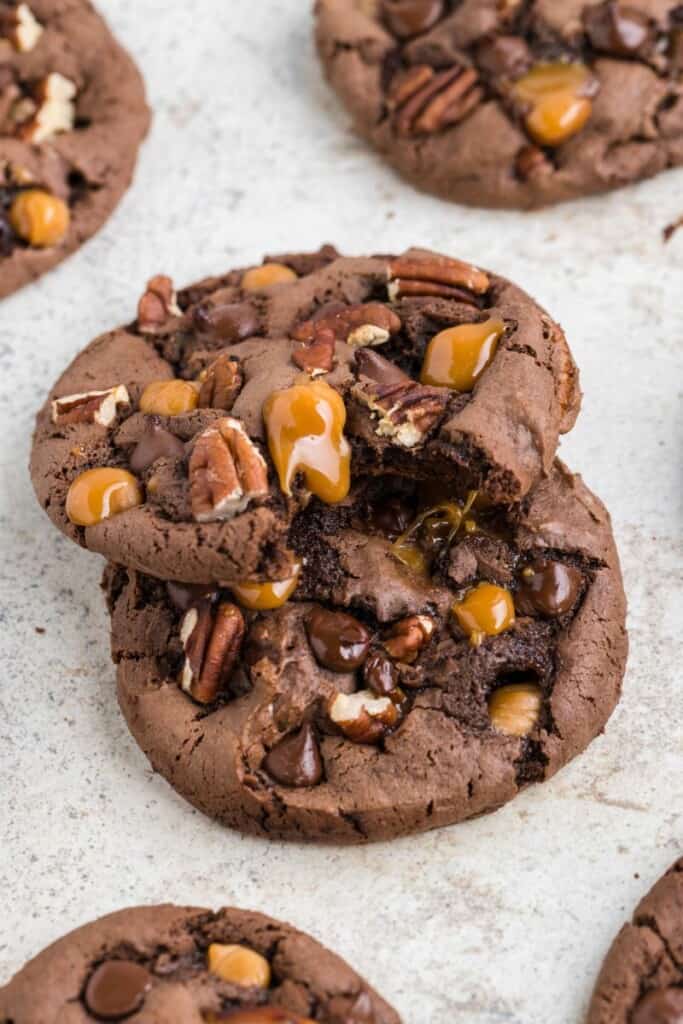 I'm always on the lookout for a new cookie recipe! I've got tons on the blog already, like chocolate thumbprint cookies with toffee bits, unique and fresh lemon curd cookies, and decadent Oreo cheesecake cookies.
Not only do I like having something homemade on hand when I'm in the mood for something sweet, I feel a lot better about giving my kids something that I made myself. No need to worry about funky additives!
If you're like me and are constantly on the hunt for a new cookie recipe to try, you've got to add this easy turtle cookie recipe to your to-bake list! It's full of lush pecans, caramel, and chocolate, which in my opinion is the perfect baking trifecta.
I'm also using chocolate cake mix as a bit of a shortcut. Try your hand at the best chocolate turtle cookies after you read this post!
How to Make Turtle Cookies
A full printable version of this recipe with ingredient measurements is available at the bottom of this post.
STEP ONE: Preheat your oven to 350 degrees F and prepare 2 cookie sheets with parchment paper.
STEP TWO: This step is optional, but I definitely recommend that you toast the pecans in a small dry skillet before adding them to your turtle cookie recipe. It heightens the flavor of the nuts and the results are so tasty.
STEP THREE: Add the cake mix, eggs, and oil to a large bowl and mix until well combined — the batter should be thick. Next fold in ½ cup each of the caramel bits, toasted pecans, and chocolate chips.
STEP FOUR: Use a large cookie scoop to scoop the cookie dough onto the prepared cookie sheets, being sure to leave at least 2 inches between each. Press the rest of the pecans, caramel bits, and chocolate chips on top of each cookie.
STEP FIVE: Bake your turtle cookies for 11-13 minutes or until the edges have set. Let them cool on the cookie sheets for at least 10 minutes before transferring to a wire rack to cool completely.
Tips for the Best Turtle Cookies
If you want to make smaller cookies, use a smaller cookie scoop and check for doneness after about 8 minutes.
Chill the cookie dough if it's too sticky. 20-30 minutes should do the trick.
Store leftover pecan turtle cookies in an airtight container on the counter for up to 3 days. If you like your cookies warm, you can reheat them in the microwave for about 10 seconds.
Want to freeze the cookie dough? No problem! It will keep for up to 3 months in an airtight container in the freezer. I suggest forming the cookie balls and then freezing them. If you're baking from frozen, simply add 2-3 minutes to your baking time.
Variations for This Turtle Cookie Recipe
Use a different cake mix. I'm using Devil's Food chocolate cake mix, but you can use your favorite chocolate variety.
Substitute caramel bits with chopped caramel candies if you can't find the bits at your local supermarket.
You can also replace the semi-sweet chocolate chips with milk, bittersweet, or even dark chocolate.
What are Turtle Cookies Made Of?
Turtle cookies are made with chocolate, pecans, and caramel, just like Turtle candy.
Rather than making the chocolate cookie dough from scratch, I use cake mix instead! The results are perfectly fluffy and chocolatey.
What is in Chocolate Turtles?
If you've never heard of Turtle candy, you may be confused at this point! Turtle candy is basically pecans that have been dipped in caramel and chocolate.
They're called turtles thanks to their shape, and were my inspiration for this chocolate turtle cookies recipe!
Is it Better to Bake Cookies With Crisco or Butter?
You won't have to worry about adding either to my turtle cookie recipe as I'm using cake mix instead.
I will say that generally, using a shortening like Crisco will help the cookies keep their shape. I personally usually opt for butter, but to each their own.
Is it Better to Bake Cookies on Parchment?
Absolutely! Not only does it make cleanup a lot easier, but you also won't have to worry about your chocolate turtle cookies sticking to the cookie sheet.
It also prevents them from breaking when you remove them from the pan.
Other Cookie Recipes You'll Love:
Love air frying? Join our newsletter! You can also follow us on Facebook, Instagram, or join our free Facebook Air Frying Community.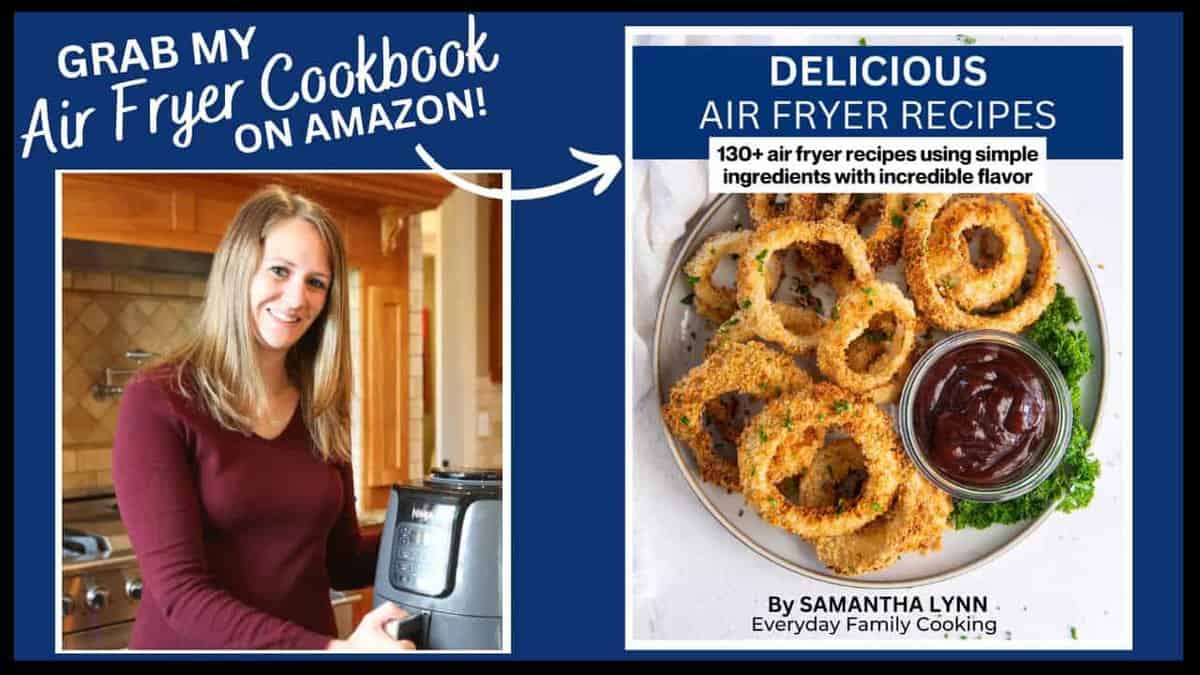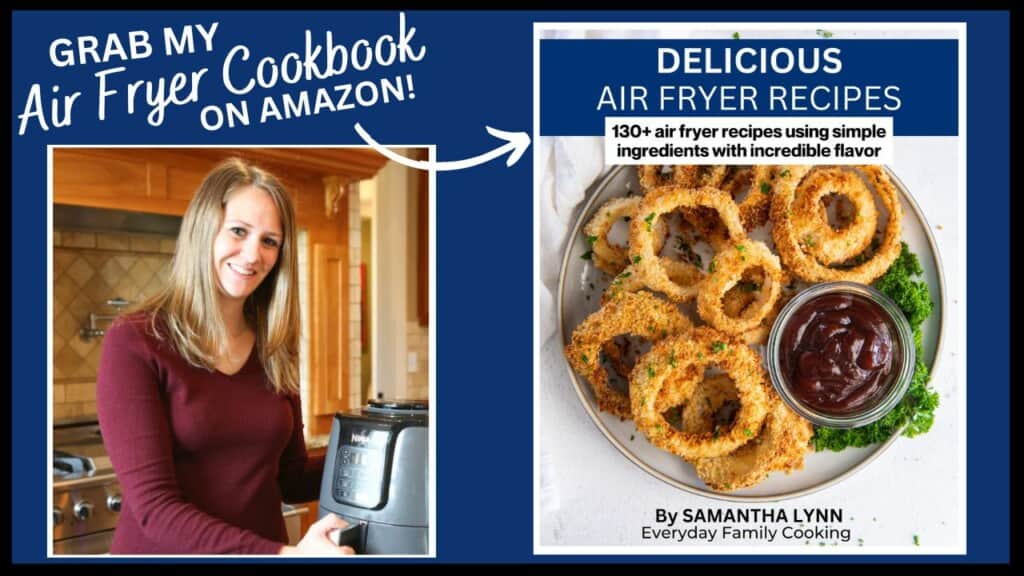 Yield: 14 Servings
Turtle Cookies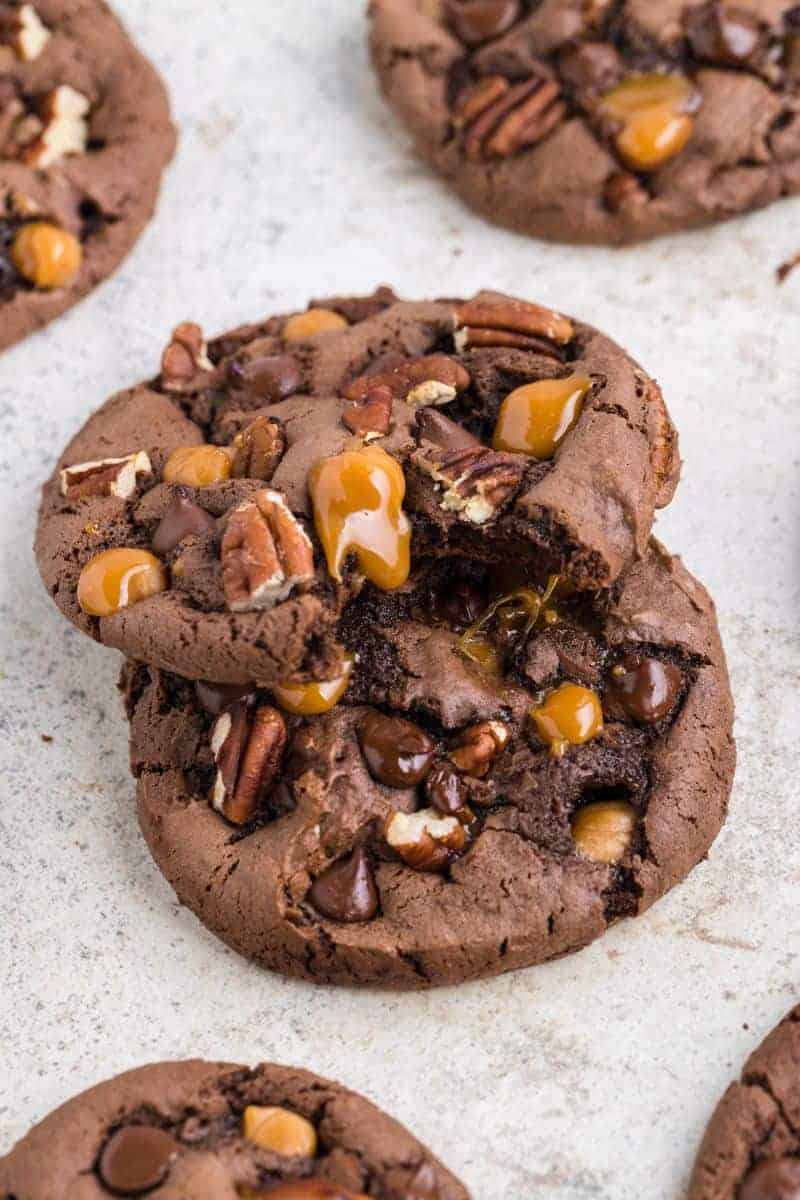 Turtle cookies boast the same flavors and textures as the candy by the same name. They're bursting with pecans, caramel, and chocolate!
Ingredients
1 (15.25 ounce) box of chocolate cake mix
2 large eggs
⅓ cup vegetable oil
¾ cup caramel bits, divided
¾ cup pecans, roughly chopped, divided
¾ cup semi-sweet chocolate chips, divided
Instructions
Preheat the oven to 350 degrees F.
Line two cookie sheets with parchment paper and set aside.
Toast the pecans in a small dry skillet over medium heat for 4-5 minutes or until toasty and fragrant. This step is optional but highly recommended.
Mix the cake mix, eggs, and oil in a large bowl until well combined. The mixture will be thick.
Fold in ½ cup each of caramel bits, toasted pecans, and chocolate chips.
Scoop the cookie dough on the prepared cookie sheets using a large cookie scoop. Leave at least two inches between each cookie. The cookies will spread a good amount during baking. Press the remaining pecans, caramel bits and chocolate chips into the topof the cookie dough.
Bake the cookies for 11-13 minutes or until the edges of the cookies have set. The cookies will form a dry crust but should still be soft in the middle.
Allow the cookies to cool on the cookie sheets for 10 minutes before transferring them to a wire rack to finish cooling.
Nutrition Information:
Yield:
14
Serving Size:
1
Amount Per Serving:
Calories:

185
Total Fat:

13g
Saturated Fat:

3g
Trans Fat:

0g
Unsaturated Fat:

10g
Cholesterol:

27mg
Sodium:

87mg
Carbohydrates:

18g
Fiber:

1g
Sugar:

16g
Protein:

2g
This nutrition information is based on the exact products I used in this recipe. Brands and sizes of products could alter exact nutrition and should always be calculated independently.