I don't know about you, but I love pizza. Something made me determined to find a way to make leftover pizza new again and I found the magic trick by choosing to reheat pizza in an air fryer.
I'm telling you this method is genius!
See the full recipe card at the bottom of this post to print the directions!
I honestly could have pizza every day if I could. We always get enough to have leftovers because, why not? But I always find myself disappointed in the taste when reheating them.
Leftovers just tend to be… well terrible when microwaved. The cheese is piping hot in some areas and ice cold in others.
Then you finally get to the crust you remember being nice and crispy from the night before and you're disappointed. Every. Single. Time. It's now tough to eat and soggy.
You eat it anyway because pizza's just too good to pass up, but I promise reheating pizza in your air fryer will change your pizza leftover life.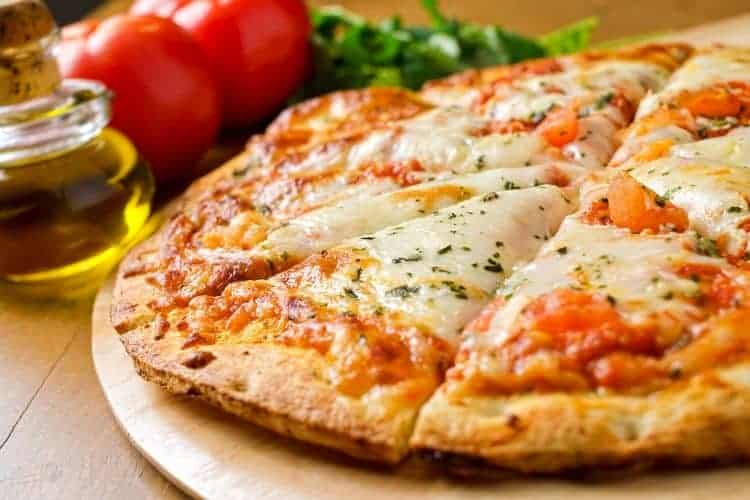 The best part about an air fryer is it works very similar to an actual deep fryer. It allows food to get crispy without making it too dry… as long as you use a little oil on certain foods.
Get ready for fresh tasting and crispy reheated pizza in an air fryer. This method works in any kind of air fryer you own, including the Power Air Fryer Oven.
Once you reheat your first slice of pizza, you'll learn what works perfectly for your pizza.
Keep reading below on how to reheat pizza including thick crust and thin crusts.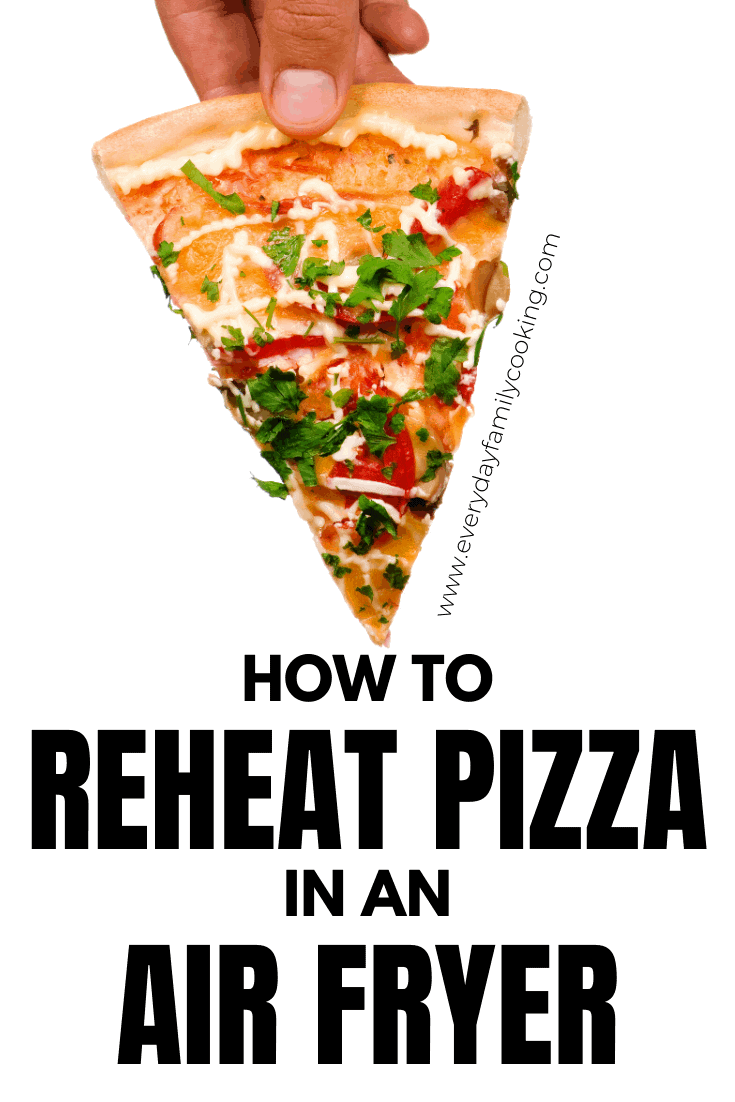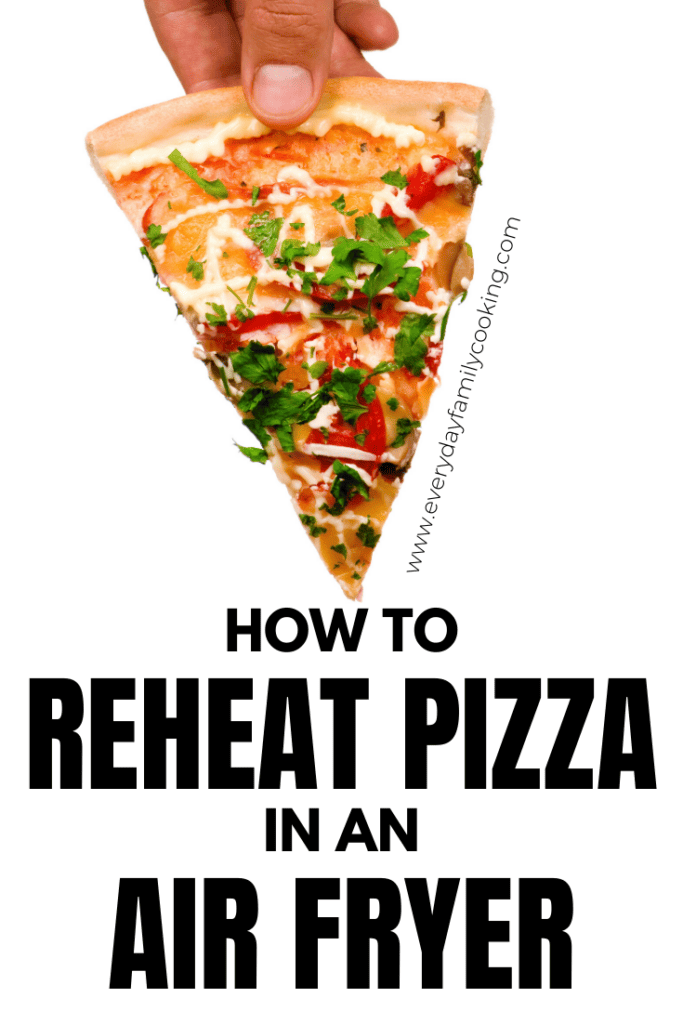 HOW TO REHEAT PIZZA IN AN AIR FRYER
A full printable recipe card is included at the bottom of this post.
Before using your air fryer, be sure you are not making one of these mistakes.
Pull your pizza out from the fridge and place it in the air fryer, being careful not to overlap any slices. If you overlap the slices when reheating pizza in the air fryer, the pizza will cook unevenly.
That will cause some parts to be too hot and possibly overcooked and some to be still cold. Think about how pizza tastes when microwaved. It's just not good.
Now simply turn on your air fryer and set the temperature to 350 degrees. If your pizza has a very thin crust, I recommend starting at 325 degrees. The thinner your pizza, the faster it will cook throughout.
If you warm up the pizza too quickly, it can start to burn and make the entire pizza extra crispy — and not in a good way. It will just taste burnt.
If you notice the pizza starting to brown, especially near the crust, turn the heat down 25-30 degrees. This allows the pizza to continue to cook, but at a slower rate.
I like to only reheat 1-2 slices of at a time (depending on the size of your pizza and air fryer) to ensure the pizza reheats evenly. Cook the pizza for 3-4 minutes and then pull it out to check on the temperature.
Continue to cook in increments of 1-2 additional minutes until the pizza is thoroughly heated. Each piece of pizza can reheat differently depending on size and thickness, so it's important to keep an eye on it to get the best results possible.
Air fryers are designed to be opened occasionally while cooking, unlike an oven. So checking on your food won't cause it to lose heat if you just pull out the drawer for a few seconds to check on it.
The idea is to get crispy, cheesy pizza just like the first day.
You can use this reheating technique on takeout pizza and homemade pizza. Just remember the thinner the pizza, the lower the temperature!
It's as simple as that! You will now have fresh pizza that tastes SO much better than those soggy microwave attempts. You can finally enjoy your pizza and it's easy!

Other Air Fryer Recipes You'll Love:
Love air frying? Join our newsletter! You can also follow us on Facebook, Instagram, or join our free Facebook Air Frying Community.
Yield: 1 serving
How to Reheat Pizza in an Air Fryer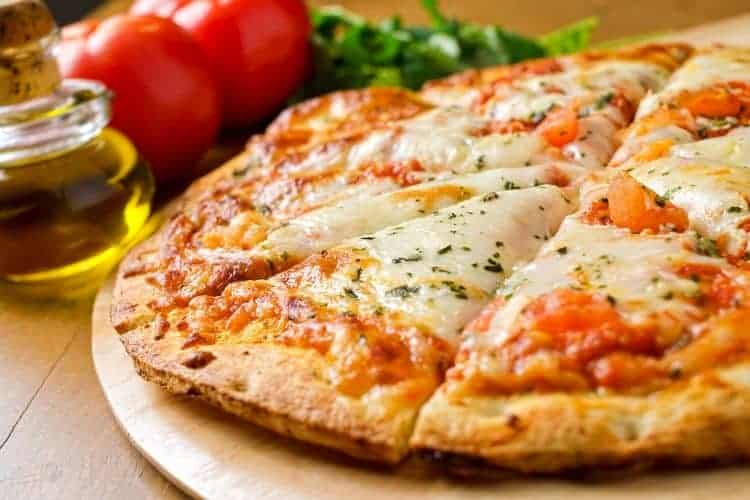 The best method to reheating pizza using an air fryer to get extra crispy results every time.
Ingredients
1-2 leftover pizza slices
Instructions
Preheat air fryer to 350 degrees.
Place pizza slice(s) inside the air fryer in one single layer and cook for 3-4 minutes.*
Remove leftover pizza from the air fryer and enjoy!
Notes
* if pizza is not thoroughly reheated, continue to cook in increments of 1-2 minutes.
Nutrition Information:
Yield:
1
Serving Size:
1
Amount Per Serving:
Calories:

285
Total Fat:

10g
Saturated Fat:

5g
Trans Fat:

0g
Unsaturated Fat:

5g
Cholesterol:

18mg
Sodium:

640mg
Carbohydrates:

36g
Fiber:

2g
Sugar:

4g
Protein:

12g
This nutrition information is based on the exact products I used in this recipe. Brands and sizes of products could alter exact nutrition and should always be calculated independently.
What kinds of pizza are you excited to try reheating now?