This post may contain affiliate links. If you click on a link and make a purchase, I may receive a small commission at no extra cost to you. For more information, please read my disclaimer here.
Looking for a healthy twist on taco Tuesday? Try these easy Instant Pot tilapia fish tacos for a delicious dinner that can be ready in 30 minutes!
Tacos are always a big hit with our family. They're such a fun way to let everyone build their perfect dinner, and who doesn't love eating with their hands?
So, when I'm in the mood for something other than chicken or beef, I love making these Instant Pot tilapia fish tacos!
Thanks to the Instant Pot, you can turn frozen fish into mouth-watering tacos in just 30 minutes. The trick is to cook the fillets in foil!
Meanwhile, whip up the creamy garlic aïoli sauce with lemon juice for the perfect topping. It couldn't be easier.
Here's what I'm going to teach you in this post:
How to make fish tacos with frozen tilapia in your Instant Pot
How to make the garlic aïoli sauce to go with your fish tacos
How to make this recipe with fresh tilapia instead of frozen
How to safely use the quick-release on your Instant Pot
How to warm up tortillas for your soft tacos
For a simple, healthy dish the whole family will love, you have to try Instant Pot fish tacos. Quick prep, easy clean-up, and so yummy — what's not to love?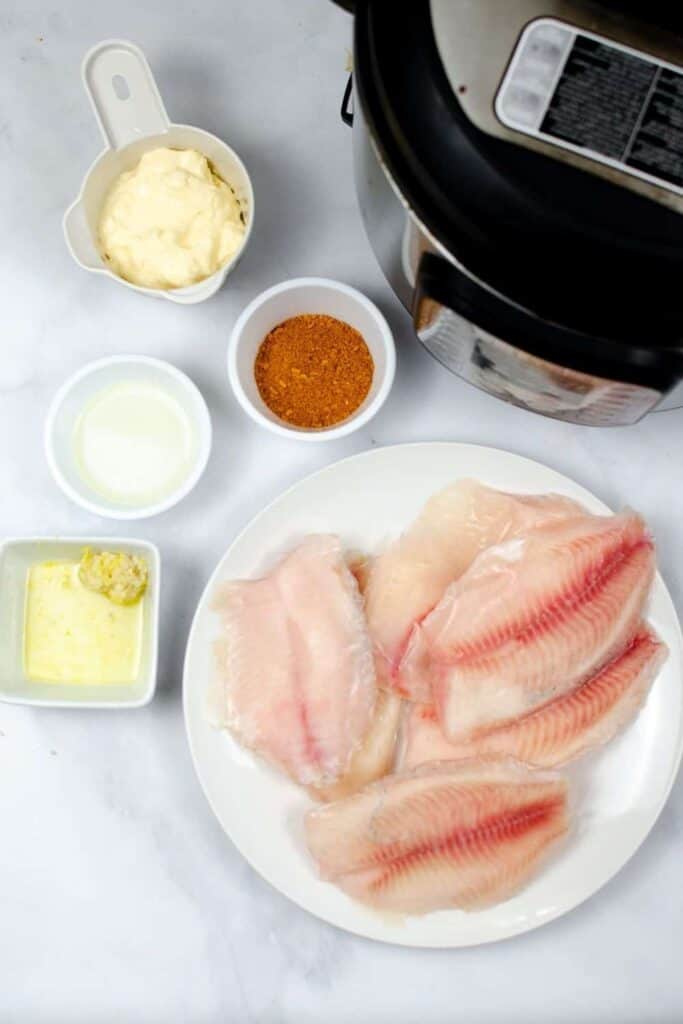 How To Make Instant Pot Tilapia Fish Tacos
STEP ONE: Place your frozen tilapia fillets on a sheet of aluminum. Sprinkle each fillet with taco seasoning.
STEP TWO: Seal your aluminum foil from each side.
STEP THREE: Add 1½ cups of water to the bottom of your Instant Pot, then place the trivet inside. Set the wrapped tilapia fillets on top of the trivet.
STEP FOUR: Close the lid of your Instant Pot and set the valve to sealing by pushing away from you.
STEP FIVE: Set your Instant Pot to high pressure for 18 minutes.
STEP SIX: Once the cooking time is complete, turn the valve to venting, or towards you, for a quick release.
STEP SEVEN: Once the pressure gauge drops, unlock and remove the lid, then carefully remove the foil packet of tilapia.
STEP EIGHT: Open the packet and shred your tilapia, then place on your favorite taco shell (whether it be a low carb tortilla, lettuce wrap, flour tortilla, or corn!) Top with the aïoli sauce, cilantro, and anything else you would enjoy on your fish taco. Enjoy!
How To Make Garlic Aïoli Sauce
STEP ONE: In a small bowl, add the mayonnaise, minced garlic, lemon juice, lemon zest, and a dash of salt and pepper.
STEP TWO: Mix the aioli until well-combined.
STEP THREE: Cover and refrigerate until you're ready to serve.
Toppings For Your Tilapia Fish Tacos
Half the fun of tacos is adding all of your favorite toppings! If you need a little inspiration, here are a few of my favorites:
Cilantro
Chopped tomatoes
Cabbage
Shredded cheese
Diced onion
Jalapeño slices
Avocado
A squeeze of lime
Can You Make This Recipe With Fresh Tilapia Instead Of Frozen?
Absolutely! This recipe works just as well with fresh fish. It'll cook up a little faster, too.
Follow the same directions to season the fish, wrap the fillets in tin foil, and prepare the Instant Pot.
Then, simply adjust the cooking time to 8 minutes. Once the cooking time is complete, do a quick release and follow the rest of the recipe as usual.
Looking for even more ways to make delicious, healthy, and easy seafood recipes? Make sure you check out this collection of the best air fryer fish recipes! You can even make tilapia in the air fryer too!
How Do I Safely Quick Release My Instant Pot?
When you let the pressure in the Instant Pot release on its own over time, this is called a "natural release." To immediately remove the pressure, you can do a "quick release."
To safely quick release the pressure in your Instant Pot:
While wearing an oven mitt or heat resistant glove, turn the valve towards you to venting. Be careful not to burn your arm or hand as it will release a lot of steam very quickly.
Make sure there is plenty of room for your pressure cooker to release the steam. If it's under any cabinets, turn it so the steam is not trapped.
If the valve is spraying water, try closing it for 15 to 20 seconds before opening it again. Repeat until the valve is no longer spraying.
You'll know it's safe to unlock and remove the lid once the pressure gauge drops.
How To Warm Up Tortillas For Soft Tacos
Who doesn't love warm tortillas for their tacos? While the fish is cooking, here's how you can get the soft shells ready:
Preheat the air fryer to 350 degrees or the oven to 400 degrees.
Wrap the tortillas in foil.
Place in the air fryer for about 5 minutes or in the oven for about 10 minutes.
Other Instant Pot Recipes You'll Love: