The best air fryer Indian recipes out there on the internet directly from Indian bloggers.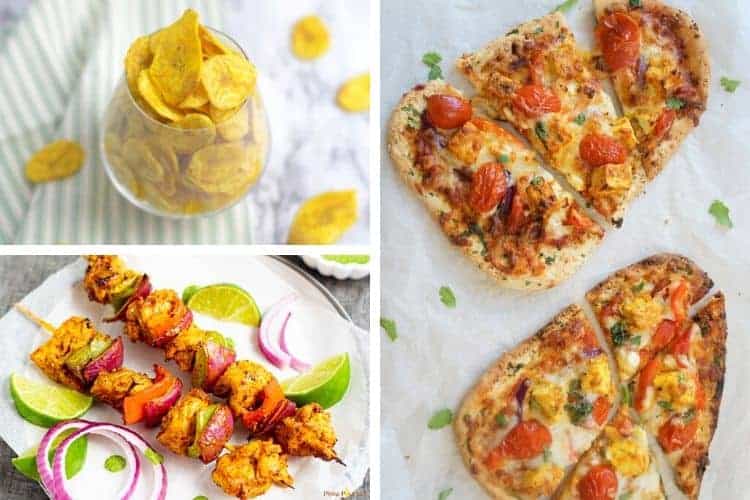 Something I love about air fryers is their ability to create the most delicious kind of food no matter what kind of cuisine it is. That stands true to Air Fryer Indian recipes and even Air Fryer South Indian recipes.
While some dishes are traditionally deep-fried or baked, an air fryer creates a crispness to foods that you will want to have time and time again.
You can enjoy everything from snacks to breakfast to dinner.
The best part? It cuts down on your cook time! An air fryer cooks about 25% faster (or more in some cases) faster than the normal oven.
While cooking, it uses 360 air circulation to cook the top and bottom and create an even crisper top than the oven.
I've included vegetarian and non-vegetarian (veg and non-veg) recipes to meet your dietary restrictions, so whether you eat chicken, fish, bread, pakora, or vegetables, this list has you covered.
This list is curated by the best Indian bloggers on the internet that post air fryer recipes. They're delicious, flavorful, and authentic (minus the fried in oil part).
Use these Indian air fryer recipes to find your favorite traditional recipes and recreate them in the air fryer.
What is the Best Air Fryer for Indian Cooking in the USA?
While it can be tempting to spend the most money and think you are getting the best air fryer, that is not always the case.
When buying an air fryer, you want to think about what kind of recipes you will make. What kind of Indian recipes will you make in your air fryer? How many people will you be cooking for?
I personally use and love the Cosori Air Fryer. It's suited to make meals for about 4 people at one time, which is perfect for my family.
The Cosori has a square basket, which gives more surface area than the normal circular basket most air fryers have.
This is crucial when making recipes that need to be cooked in one layer and can't be stacked, like chicken tikka kebabs (I use the Cosori Accessory Kit's skewers).
It's also one of the more budget-friendly air fryers, so it's a win-win!
You can read more about my personal review of the Cosori Air Fryer.
If you're looking for a bigger air fryer oven, I recommend the Cuisinart Convection Toaster Oven Air Fryer.
It's a toaster oven and air fryer all in one and is so big it can cook an entire 12-inch pizza inside it all at once. It can even hold up to 3 pounds of food!
Feel free to look at the list of best air fryers in this article to make sure you make the best decision for your family's needs.
More Air Fryer Recipes: